Windows XP Running Inside Ubuntu 7.10 Gutsy Gibbon
I am still working on getting EMC2 working in Ubuntu 7.10, but in the meantime I decided to give Virtual Box a try. The Virtual Box website has deb files for Ubuntu so installation was easy. I created a new virtual machine with 192MB of RAM and 6Gb of drive space and stuck the XP SP2 CD in the drive and started the machine. From that point the XP installer went through it's machinations until I had the desktop running.
I am pretty impressed. The speed of XP is almost as fast as if it were running on it's own. It's perfectly usable, has network access and can resize the desktop to match the window on the fly. It automatically captures the mouse pointer when it goes over the window, and it is possible to take snapshots of the PC and restore them. In other words, no waiting for XP to boot up; just go straight to the desktop.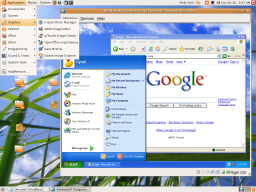 | | | |
| --- | --- | --- |
| | Print article | This entry was posted by Andy on October 30, 2007 at 9:51 am, and is filed under Linux. Follow any responses to this post through RSS 2.0. Both comments and pings are currently closed. |
about 12 years ago - Comments Off on Radio Controlled Aircraft for Stroke Victims
This post introduces my open source radio control project. It allows an RC aircraft to be controlled from a Wii Nunchuk, i.e. with one hand! Videos will be posted when they are available but so far it is working great in the flight simulator and with a stationary aircraft. All documentation, source files and binary…
Comments are closed.