Archive for
January, 2011
Using data from the OpenStreetMap project (taken a couple of days ago) along with some utilities such as Maperitive and custom software, I have generated a 39 inch x 31 inch poster of the East Riding of Yorkshire. This map includes hillshading and contour lines and individual streets can be seen.
Some assembly is required. Print it out on A4 paper, cut out the sheets and then glue them together. Download it here.
Here is a sample: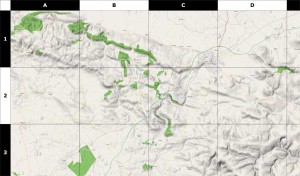 Love maps? Want to make your own? Now it's easy thanks to a set of free software.
Previously I wrote about the OpenStreetMap project, which allows anyone to edit a map of the world. People can add points, lines and areas and "tag" them to show what they are. Once the data is uploaded a new version of the map is generated for everyone to see.
For example I could create a point on the map and tag it with "railway=station" to indicate that it is a train station. I could draw a line and tag it with "highway=residential" to mark the line as a residential road. I could also draw an enclosed area and tag it with "landuse=forest" to show that the area is a forest. There are many different tags that can be used to represent all kinds of things that appear on maps.
This article is in the form of a tutorial to get you quickly started creating your own maps. I will introduce the software involved and show how to use it step by step. The result of the tutorial is a map of the North Yorkshire Moors Railway, which is a steam train service on a historic train line in England and is featured in the Harry Potter films.
A five second video I made today from the footbridge of a Hull to Bridlington train stopping at the station in Driffield. As the train arrives in the station you can see the level crossing barriers behind it go up and traffic resume.