Change in Direction
I decided that the McWire CNC machine probably wouldn't be able to product the accuracy I need, or have the lifespan that I need for a machine. In addition I want to be able to cut objects up to a square foot in size. The McWire design would need to be four square feet in size to be able to do that. Instead I decided to buy a machine kit.
I was drawn to the Fireball CNC designs because they are individually hand made and affordable. They also use a gantry design which results in a footprint not much larger than the cutting size. The problem was that they didn't make a machine that could cut one square foot objects. Until now that is…
Fireball CNC have just released the V90, which has a cutting area of around 12″ x 18″ x 3″. I was fortunate enough to get one during the beta testing phase. Below is a picture of the assembled machine.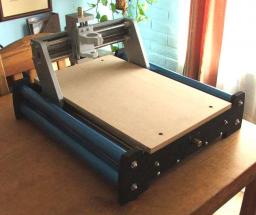 The next steps are to extend the motor wires, attach them and test jogging from EMC2.
No comments yet.
No trackbacks yet.
about 11 years ago - 3 comments
Yesterday I performed some testing on my Fireball CNC V90. I started off with each axis pretty much centered, to reduce the risk I crash the machine into it's hard limits (the physical limits of each axis). Using the full stepping inches configuration I tried: G00 X1 to move the X axis (the longest axis)…