Jack the Ripper Bot I – Introduction
I had a problem.
Over the last 15 years my wife has amassed a huge DVD collection and we don't have enough space for shelving to access them all. About a year and a half ago I decided to start ripping the discs to a media server. This went well initially but it was tedious. Ripping is a slow business and every hour I had to feed the computer another disc which was disruptive to normal life. I gave up.
Recently inspired and armed with a 3D printer I decided to build a robot to perform the disc changing. Jack the Ripper Bot was born.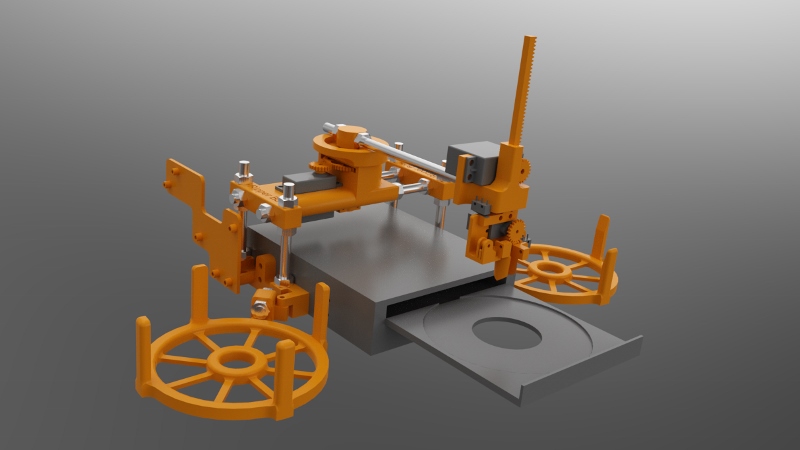 View the video of the robot in action: http://www.youtube.com/watch?v=mmHycIOtYHA
I will divide the description of Jack into five parts: introduction, mechanics, electronics, software and troubleshooting.
My aims were:
Modular software and hardware design
Open source
Reliable
Low cost
Using off-the-shelf electronics
A stack of discs are placed into the "in tray". An arm moves over to the stack and grabs the top disc. The disc is then lowered into the drive tray. Ripping takes place. Once complete the disc is removed from the drive tray and the arm takes it over to the "out tray" and places it there.
A Raspberry Pi is used to control the robot and a PC is used to control the overall process and the ripping.
I have a laptop which is about four years old and it can rip a DVD in about 1 hour 15 minutes. The in tray is designed to hold 24 discs to give about 28 hours of ripping time. It is of course possible to increase the capacity of the in tray and the out tray if your PC is faster than mine.
A complete bill of materials can be downloaded.
All files, including the software and part source files and STLs can be found on github. The files are licensed under GPLv3.
about 10 years ago - Comments Off on Jack the Ripper Bot V – Troubleshooting
Part 1 introduced the project, part 2 covered the mechanics and part 3 the electronics. Part 4 covers the software side and part 5 is about troubleshooting. 1. Troubleshooting 1. Pivot servo position varies/is not repeatable/slow loosen the screws holding the servo and move it back slightly so the gears are still meshing but there is no…
Comments are closed.